January 27th, 2022
It is very difficult to explain my "technique" since so often it is intuitive as it is particularly so in "Seasons." Consequently, with this one in particular, I still marvel at what I created and miss my painting... It is also what makes it very difficult to just start painting again.... and takes time to think about.... time that needs to be added to the "time it takes to create each painting" ...

Painted intuitively from heartfelt memories of the heavy fog and mist in the northeast landscape, "Seasons" is an original unique abstract impressionistic watercolor painting in a private collection in Florida.

Background on the creation of this painting:
When I painted "Season," I had painted a lot of paintings that day, maybe as many as six (6), all with some direction in mind. Then... thinking about Zoltan Zabo style... I just put some dabs of color on a wet watercolor block, especially my favorite and unusual for watercolor, the deep red. After I let the paper and blobs of color dry, I just played around with a few wisps of grasses and used a palette knife to add a tree. I actually had not done a tree in watercolor for many years, so I was experimenting with how to do one.

Quiet satisfied with my painting, and really having no clue as to what motivated it, I got to keep it for ten (10) years until someone finally recognized that it was "really good," and asked to purchase it. How could I say "No"? So it has a home next door to my daughter's house with her neighbors in Florida.
December 23rd, 2020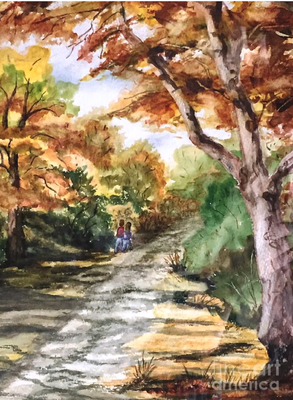 Original watercolor painting, "Clandestine Walk" through Autumn Woods at Lake Johnson in Raleigh North Carolina, is one of a kind vintage painting from the 1970s. Two kindred souls have a clandestine meeting for a deep discussion of their current lives, identities, and futures. Deep discussion leads to soul searching and major lifestyle changes. The beauty of the day is hardly acknowledged while they are deep in thought. Oranges, browns, reds, greens are all along the nature walk, as well as oak trees, dogwoods. Grasses line the path.

"You do not need this painting in your house. I'm taking it with me," my mother said in when she saw this painting. Being an artist too, I guess she knew it was painted from my soul.... and a portrait of a reality I was not ready or at liberty to discuss...at that time. Many years later, after our mother was gone and our father had died, my younger sister found and saved the painting to give it back to me.

The artist Cathie Donleycott, a young women in the mid 1970s grew from that experience, and many that followed from it, to become Catherine Ludwig Donleycott. Catherine Ludwig Donleycott

To learn more about my personal history, visit my social networks:
https://www.facebook.com/c.donleycott
https://instagram.com/c.donleycott
https://linkedin.com/in/catherinedonleycott
December 21st, 2020
In anticipation of each season, my mind flashes back to places I have been before, especially the beaches of my beloved Breezy Point, Long Island. Descended from a long-line of New York City designers and painters, I share their love of nature, the water, and landscape painting.

My mother, a painter and fashion designer, created clothes for me like those she saw in Saks Fifth Avenue windows. On our many long drives along the Bronx and Hutchinson River Parkway into The City and visits to the Metropolitan Museum of Art, I drew inspiration for my drawings and paintings.

I express my subconscious artistic vision primarily through abstract impressionistic seascapes, and landscapes. Beginning to apply paint to paper or canvas, the painting itself inspires me. Since 1972, the public has responded to my artistic vision by purchasing over 350 original painting.

After graduating from NC State University in 1988 as the first mother and two daughters to ever do so, I worked as a technical writer and designer, visually painting pictures with everything I touched. Now, after a life-long search for a sense of place,I have settled in Clayton, North Carolina where I garden, walk, takes photos, and paint. Sharing the comfort I receive from the natural beauty in the world, as well as the joy I feel when interacting with my paintings, has been my life's goal.

Accomplishments Include:
- Solo Art Show at ARTmosphere Community Art Center - November 2020 to January 2021
- Juried into Clayton Visual Arts (CVA) Art Faire 2018
- Juried into five (5) NC State Fairs
- Juried into Carolina Craftsmen Show
- Five Society of Technical Communications Writing, Editing, and Design awards, including: Distinguished Award for Technical Publications, 2002. Hill-Rom Nurse Communications Systems (NCM) Quick Reference Guide
- Redesigned Northern Telecom (Nortel) Product Information Room—came in $13,000 under budget, 1992
- Created GoDaddy website: https://catherinedesigns.com/